ОБУЧАЮЩЕМУСЯ ПО СПЕЦИАЛЬНОСТИ "ЯДЕРНАЯ МЕДИЦИНА"
Ա. Ալիխանյանի անվան ազգային գիտական լաբորատորիա (Երևանի ֆիզիկայի ինստիտուտ)
1-ին կուրսի 1-ին կիսամյակի
"Գիտափորձի մեթոդիկա և տվյալների մշակում"
Դասախոս` Ալբերտ Ավետիսյան




ԵՐԵՎԱՆԻ ՊԵՏԱԿԱՆ ՀԱՄԱԼՍԱՐԱՆԻ
ՖԻԶԻԿԱՅԻ ՖԱԿՈՒԼՏԵՏԻ
ՄԻՋՈՒԿԱՅԻՆ ՖԻԶԻԿԱՅԻ ԲԱԺՆԻ
"ՌԱԴԻԱՑԻՈՆ ՄԵԹՈԴՆԵՐԸ ԲԺՇԿՈՒԹՅԱՆ ՄԵՁ ԵՎ ԿԵՆՍԱՏԵԽՆՈԼՈԳԻԱՆԵՐՈՒՄ"
Դասախոս` Ալբերտ ԱՎԵՏԻՍՅԱՆ









"NUCLEAR MEDICINE PHYSICS: a Handbook for Teachers and Students" - This handbook comprehensively covers the physics of nuclear medicine. it is intended for undergraduate and postgraduate students of medical physics. it will also serve as a resource for interested readers from other disciplines, for example, clinicians, radiochemists and medical technologists who would like to familiarize themselves with the basic concepts and practice of nuclear medicine physics.
"CYCLOTRON BASED PRODUCTION of TECHNETUM-99m",
IAEA Radioisotopes and Radiopharmaceuticals Reports No. 2 - This publication presents a comprehensive overview of the technologies involved in the production of cyclotron based 99mTc.
***
Methodical materials for laboratory work:
***
ԽՈՐԱԳՐՈՎ ԱՄԱՌԱՅԻՆ ԴՊՐՈՑԸ "ՄԹՆՈԼՈՐՏՈՒՄ ԲԱՐՁՐ ԷՆԵՐԳԻԱՆԵՐԻ ՖԻԶԻԿԱ և ՏԻԵԶԵՐԱԿԱՆ ՃԱՌԱԳԱՅԹՆԵՐ"
մեկնարկեց 29 –ին - սեպտեմբերի 1-ին
Ա. Ալիխանյանի անվան ազգային գիտական լաբորատորիայի /Երևանի Ֆիզիկայի Ինստիտուտ/
ԴԱՍԱԽՈՍՈՒԹՅԱՆ
"Միջուկային բժշկություն` ռադիոակտիվ իզոտոպների ստացումը և կիրառումը առողջապահության համար"
Speaker - ԱՎԵՏԻՍՅԱՆ Ալբերտ Էդուարդի>
***
"Nuclear Medicine" - raining material developed in collaboration with
World Health Organization (WHO)
Pan American Health Organization (PAHO)
International Labour Organization (ILO)
International Organization for Medical Physics (IOMP)
***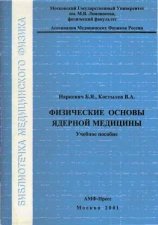 ---
ПО СТРАНИЦАМ НАУЧНЫХ ЖУРНАЛОВ
Instruments 2019, 3(1), 11
William Z. Gelbart 1, and Richard R. Johnson
"Molybdenum Sinter-Cladding of Solid Radioisotope Targets" - A simple cladding process, especially suitable for the production of radioisotope targets, was developed.
W. Kleeven and S. Zaremba
Ion Beam Applications, Louvain-La-Neuve, Belgium
"Cyclotrons: Magnetic Design and Beam Dynamics" - A good overview of cyclotrons with examples and illustrations.
Ryszard S. Romaniuk
"ARIES - Development of Accelerator Technology in Europe 2017-2020: Global and Local Consequences" - The article describes chosen, yet key parts of newly established European, infrastructural research and development project ARIES (2017-2020) - Accelerator Research and Innovation for European Science and Society, to be realized inside the framework of the H2020 programme.
Seth A. Hoedl & W. Derek Updegraff
"The Production of Medical Isotopes without Nuclear Reactors or Uranium Enrichment" - Այս հոդվածը քննում է ընթացիկ ունակությունը արագացուցչային տեխնոլոգիաների, որն արագորեն բարելավվում է, արտադրել բժշկական իզոտոպներ:
"Accelerator science in medical physics" - This article serves as an introduction to this complex area of physics, and will be of benefit to those engaged in cancer therapy, or who intend to acquire such technologies in the future.
B.L. Zhuikov
"Production of medical radionuclides in Russia: Status and future—a review" - The article presents an overview of reactors and accelerator centers in Russia producing medical isotopes.

Highlights
We analyze current and potential production of medical radioisotopes in Russia.
All main isotope producers in Russia are listed.
Potential of new isotopes produced at middle energy accelerators are considered.
Problems arising in with further progress are considered.