02.03.2023
TRIUMFLab's "Saturday Morning Lectures"
21-26.08.2022
"Workshops on Targetry and Target Chemistry (WTTC18)"
03.02.2022
"Financing in place for European SHINE isotope plant" - SHINE Technologies of the USA has announced its European subsidiary, SHINE Europe, has secured funding to begin designing an advanced medical isotope production facility at Veendam in the Netherlands.
31.01.2022
"National Centre for Nuclear Research: MARIA reactor's emergency takeover of medical molybdenum-99 production" - The Polish nuclear reactor MARIA rearranged its work schedule to prevent the shortages of medical molybdenum-99 due to a fault in the Dutch HFR reactor, the National Centre for Nuclear Research reports. Molybdenum-99 is a radionuclide used in cancer diagnostics and therapy.
2019
11.11.2019
"Վարչապետը ներկա է գտնվել Միջուկային բժշկության եվրոպական կենտրոնի բացման արարողությանը" - Արմինֆո.Վարչապետ Նիկոլ Փաշինյանը «Էրեբունի» բժշկական կենտրոնում ներկա է գտնվել նոր՝ Միջուկային բժշկության եվրոպական կենտրոնի բացման արարողությանը:
25.10.2019
"Canadian breakthrough in radioisotope production" - Two Canadian research organisations have completed the first joint production run of actinium-225 (Ac-225), one of the rarest medical radioisotopes in the world.
28.05.2019
"Colliding lasers double the energy of proton beams" - Researchers from Sweden's Chalmers University of Technology and the University of Gothenburg present a new method which can double the energy of a proton beam produced by laser-based particle accelerators. The breakthrough could lead to more compact, cheaper equipment that could be useful for many applications, including proton therapy.
18.03.2019


"NUCLEAR FOR BETTER LIFE"
2018
24.07.2018
A Domestic Electron Ion Collider Would Unlock Scientific Mysteries of Atomic Nuclei, Maintain U.S. Leadership in Accelerator Science, New Report Says - The science questions that could be answered by an electron ion collider (EIC) – a very large-scale particle accelerator – are significant to advancing our understanding of the atomic nuclei that make up all visible matter in the universe, says a new report by the National Academies of Sciences, Engineering, and Medicine. Beyond its impact on nuclear science, the advances made possible by an EIC could have far-reaching benefits to the nation's science- and technology-driven economy as well as to maintaining U.S. leadership in nuclear physics and in collider and accelerator technologies..
15.02.2018
The Joint Accelerator Conferences Website (JACoW) is an international collaboration that publishes the proceedings of accelerator conferences held around the world.
2017
11.07.2017
2017 Medical Isotope Supply Review: 99Mo/99mTc
Market Demand and Production Capacity Projection 2017-2022 - This report was written by Mr Kevin Charlton of the NEA Division of Nuclear Development.
15.05.2017
"The new proposal of Russia for world nuclear medicine" - a review of the current state of the markets for the production and consumption of molybdenum and technetium
11.04.2017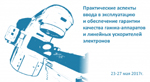 - The International Training Center (ITC) of the Association of Medical Physicists in Russia (AMPR) invites you to the course of advanced training of medical physicists, physicists-experts, engineers on the topic: "Practical aspects of putting into operation and ensuring the quality of gamma-apparatus and linear electron accelerators" which will be held on May 30 - June 3, 2017 on the clinical base of the Russian Cancer Research Center (RCRC) after N. N. Blokhin.
2015

10.03.2015
"Canadian group succeeds with cyclotron-produced Tc-99m"

17.02.2015
"Producing Technetium | Major Clinical Breakthrough at the Centre de recherche du CHUS" - Cyclotron-production of Tc-99m can offset these needs. The process does not produce nuclear waste, making it a promising green technology. It is also less expensive compared to the investment required to build a nuclear reactor.

30.01.2015
"Ռուսական ձեռնարկությունը Հայաստան առաջին իզոտոպային գեներատորն է առաքել" - «Ռոսատոմ» պետկորպորացիայի ձեռնարկություն ««Իզոտոպ» համատարածաշրջանային միավորումը» 2015 թ. հունվարին Հայաստան տեխնեցիում-99m-ի՝


2014

08.11.2014
"Ukraine unveils new nuclear research facility" - Ukraine's Kharkov Institute of Physics and Technology has completed the construction of a nuclear research facility called Neutron Source that will be used to treat cancer.


2013

21.11.2013
"Update on Mo-99 Availability" - Currently the HFR reactor in The Netherlands is shut down due to an issue with one of the control rods. This shutdown may last for up to three months...

08.10.2013
ISTC Armenian Branch Office - 15 Year Anniversary

***
---