Albert Avetisyan
Head of the Department,
PhD in Physics and Mathematics


August 31th, 1949 - March 31th, 2021
Graduated from Yerevan State Univercity in 1971.
Defended PhD thesis in YerPhI in 1988.
Author of more than 130 scientific publications.
Leading special course "Experimental Techniques" for undergraduates of the Chair of Nuclear Physics in Yerevan State University.
"Creation of Armenia based production of radio nuclides for nuclear medicine and corresponding radio-pharmaceutical preparations on the linear electron accelerator of the A. I. Alikhanyan National Science Laboratory (former Yerevan Physics Institute) is the primary goal of the department.
Preliminary studies which we conducted in the framework of the ISTC-1444 and CNCP - A1785P projects have shown that in the near future it is possible to create the full-scale production, which could satisfy the basic needs of the Armenian clinics in medical isotopes, especially short-lived radioisotopes (99mTc, 123I, etc.)"
***
"Nuclear medicine: radioactive isotopes - production and use for healthcare" (full version),
Lecture Albert Avetisyan

***
Synthesis report of the working group "Cooperation in the field of production, use and promotion of isotope production of the CIS states-participants":
"Prospects of cooperation in the field of production, use and promotion of isotope production of the CIS states-participants"
***
***
FOR STUDENTS MAJORING in "NUCLEAR MEDICINE"
A.I. Alikhanyan National Science Laboratory (Yerevan Physics Institute)
Master 1 year, 1 semester
"SCIENTIFIC EXPERIMENT METODOLOGY and DATA PROCESSING"
Lecturer: ALBERT AVETISYAN



YEREVAN STATE UNIVERSITY
FACULTY OF PHYSICS
DEPARTMENT OF NUCLEAR PHYSICS
"RADIATION METHODS IN MEDICINE AND BIOTECHNOLOGIES"
Lecturer: ALBERT AVETISYAN









"NUCLEAR MEDICINE PHYSICS: a Handbook for Teachers and Students" - This handbook comprehensively covers the physics of nuclear medicine. it is intended for undergraduate and postgraduate students of medical physics. it will also serve as a resource for interested readers from other disciplines, for example, clinicians, radiochemists and medical technologists who would like to familiarize themselves with the basic concepts and practice of nuclear medicine physics.
"CYCLOTRON BASED PRODUCTION of TECHNETUM-99m",
IAEA Radioisotopes and Radiopharmaceuticals Reports No. 2 - This publication presents a comprehensive overview of the technologies involved in the production of cyclotron based 99mTc.
***
Methodical materials for laboratory work:
***
SUMMER SCHOOL "HIGH ENERGY PHYSICS IN ATMOSPHERE AND ASTROPHYSICS (HEPA 2016)"
2016, August 29 - September 1
A. Alikhanyan National Laboratory - Yerevan Physics Institute (YerPhI)
Lecture Albert Avetisyan on
"Nuclear medicine: radioactive isotopes - production and use for healthcare"
***
"Nuclear Medicine" - raining material developed in collaboration with
World Health Organization (WHO)
Pan American Health Organization (PAHO)
International Labour Organization (ILO)
International Organization for Medical Physics (IOMP)
***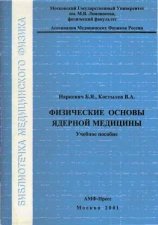 ---
SCIENTIFIC JOURNALS DIGEST
Instruments 2019, 3(1), 11
William Z. Gelbart 1, and Richard R. Johnson
"Molybdenum Sinter-Cladding of Solid Radioisotope Targets" - A simple cladding process, especially suitable for the production of radioisotope targets, was developed.
W. Kleeven and S. Zaremba
Ion Beam Applications, Louvain-La-Neuve, Belgium
"Cyclotrons: Magnetic Design and Beam Dynamics" - A good overview of cyclotrons with examples and illustrations.
Ryszard S. Romaniuk
"ARIES - Development of Accelerator Technology in Europe 2017-2020: Global and Local Consequences" - The article describes chosen, yet key parts of newly established European, infrastructural research and development project ARIES (2017-2020) - Accelerator Research and Innovation for European Science and Society, to be realized inside the framework of the H2020 programme.
Seth A. Hoedl & W. Derek Updegraff
"The Production of Medical Isotopes without Nuclear Reactors or Uranium Enrichment" - This article examines the current capability of accelerator technology, which is rapidly improving, to produce medical isotopes.
"Accelerator science in medical physics" - This article serves as an introduction to this complex area of physics, and will be of benefit to those engaged in cancer therapy, or who intend to acquire such technologies in the future.
B.L. Zhuikov
"Production of medical radionuclides in Russia: Status and future—a review" - The article presents an overview of reactors and accelerator centers in Russia producing medical isotopes.

Highlights
We analyze current and potential production of medical radioisotopes in Russia.
All main isotope producers in Russia are listed.
Potential of new isotopes produced at middle energy accelerators are considered.
Problems arising in with further progress are considered.